Below is a list of different volunteering opportunities available across our communities to help people affected by the coronavirus outbreak.
Caerphilly Kindness Card scheme
Led by Caerphilly Council, the Kindness Card scheme encourages people to check in with vulnerable neighbours – particularly those with no close family or support network, and to offer any assistance (such as help with shopping, placing bins out for collection, walking pet dogs or just a friendly phone call) that person may require.
'Together for Cardiff' uses Cardiff Council's volunteering portal to advertise volunteering opportunities all in one place.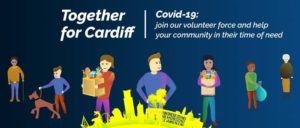 Cardiff Community Wellbeing team
If you are interested in volunteering in Cardiff to help your community during the coronavirus pandemic, our Community Wellbeing team can help.

Vale Heroes is bringing together voluntary groups and businesses across the Vale of Glamorgan who are working to help residents affected by the coronavirus outbreak.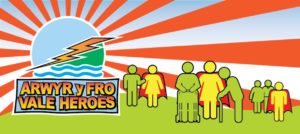 Glamorgan Voluntary Services – GVS
As the County Voluntary Council for the Vale of Glamorgan, GVS is concentrating on being the conduit between support offered and support needed, while supporting organisations, some newly formed, with their governance and planning.
GAVO 'Call to Action' volunteers
GAVO (Gwent Association of Voluntary Organisations) are registering volunteers to support people at risk and to support communities, groups, voluntary and Third Sector organisations, the NHS and other services.
Monmouthshire Council Partnerships
Monmouthshire Council are asking people or organisations interested in supporting the community response to contact: partnerships@monmouthshire.gov.uk
BAVO (Bridgend Association of Voluntary Organisations) are encouraging people interested in volunteering to register so they can match your skills, interests and experience to the most relevant need.