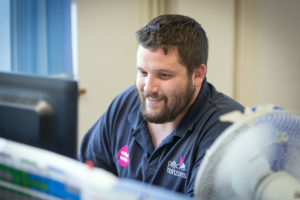 Celtic Horizons, which provides all the asset management services for Caerphilly-based housing association United Welsh has been accredited by the prestigious Investors in People (IIP) for the first time.
The IIP Standard, which recognises a business's work to look after its employees, was awarded to Celtic Horizons following its successful assessment this autumn.
The company which was launched in 2013 following a partnership between United Welsh and Mears, delivers estate services for the housing association including gas servicing, grounds works, cleaning, repairs and maintenance.
Managing Director of Celtic Horizons Mark Bugler said: "I am very proud of everyone at Celtic Horizons for their continuing commitment and dedication.
"We are delighted that everyone's hard work and endeavours to make Celtic Horizons a great place to work has been recognised in this way. Team work is at the heart of everything we do and this award is a real celebration of all that entails.
"I would also like to particularly thank our Commercial Director Neil Chidgey for his dedication in helping Celtic Horizons to achieve this prestigious accreditation."
During the review, Celtic Horizons employees were invited to meet with the assessor to confidentially discuss their thoughts about the company, including management style and personal development.
The report found that directors and managers recognise the importance of ensuring everyone in the team is engaged and motivated and capable of consistently exceeding tenant and stakeholder expectations.
It also found that there are clear and simple vision and values which are at the heart of everything and a positive culture where people feel empowered and trusted to make decisions and take the initiative.
United Welsh Group Chief Executive Lynda Sagona said: "This is a fantastic achievement and we are thrilled that Celtic Horizons has been awarded IIP accreditation for the way that it develops its staff and involves everyone in the running of the business."
Celtic Horizons is accredited with the IIP Standard until 2021.