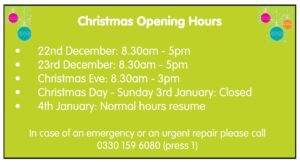 United Welsh will close for the Christmas period. In an emergency or if you need an urgent repair during this time, please call: 0330 159 680 (press 1).
Our Christmas hours are as follows:
Tuesday 22nd December: 8.30am – 5pm
Wednesday 23rd December: 8.30am – 5pm
Christmas Eve: 8.30am – 3pm
Christmas Day until Sunday 3rd January: Closed
Monday 4th January: Normal hours resume
To our tenants and everyone who has worked with us in 2020, thank you for your support.
We wish you all a Merry Christmas and a Happy New Year. Stay safe.