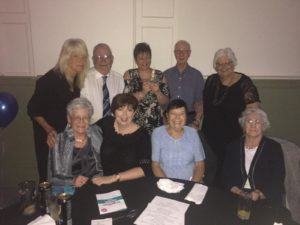 An intergenerational choir, thriving community allotment and a voluntary boxing coach were among a fantastic group of winners that were celebrated at United Welsh's 'Together' Awards.
Together is United Welsh's tenant engagement programme which offers volunteering, jobs and training and community funding opportunities.
The awards are organised to celebrate people that have made a positive difference in their communities.
This year's ceremony was held at the Newbridge MEMO and was thoroughly enjoyed by tenants, neighbours, partner organisations and staff.
The winners were:
Volunteer of the Year – Jason Paynter from The Granary, Tredegar
Jason is passionate about boxing and gives up his time every week to train young people in group sessions because he knows the positive impact that the discipline of the sport can have on other areas of life.
He benefited from a Together Fast Track Fund bid to purchase equipment to keep the sessions going and is now being supported to make his boxing sessions a constituted group.
Good Neighbour Award – Sharon and Michael Samways and William Grennan from Clos Y Cwarra, Ely, Cardiff
Sharon, Michael and William have all played active roles in making Clos Y Cwarra in Ely a better place to live.
They have worked hard to bring the community together at events despite challenges with antisocial behaviour; secured plants for community planting days to brighten the estate and given up their time to keep the Clos Y Cwarra clean and litter-free.
Best Tenant-Led Initiative – Clos Dinas Wen Growers Community Allotment, Trethomas, Caerphilly
The tenants at Clos Dinas Wen in Trethomas have created a thriving allotment for the community to enjoy.
They organised the build of six raised beds, a bench and a shed and have had a very successful first growing season, with local children growing fruit, vegetables, herbs, flowers and plants to donate to neighbours throughout the community.
The allotment has also been a base to teach local children about recycling, the important of conserving water and sharing and gives them a safe place to enjoy.
Learner of the Year – Paul Highgate from Cardiff
Paul wanted to make a change after being unemployed for a number of years, so he spoke to Celtic Horizons and the Customer Employment team.
He worked hard to complete several training courses and pass his driving exam and volunteered at Celtic Horizons, which led to a permanent position after he gained excellent feedback about the quality of his work and his work ethic.
Now Paul wants to continue learning by taking more NVQs.
Endeavour of the Year – Emma Burgoyne from Forgeside, Blaenavon
After difficult circumstances with travel that led to her losing her house-keeping job, Emma had a hard time dealing with the transition to Universal Credit while raising her daughter Isabelle alone.
Emma was hit hard but despite this, she focused on her studies to refresh her computer skills and complete an ECDL course to help her to gain employment again, all while looking after her daughter Isabelle.
Emma has also volunteered to help other tenants to prepare for Universal Credit, sharing her story at community events and the national media in a bid to help others.
Best Community Project – Connect Intergenerational Choir with St Mary's Church in Wales Primary School, Brynmawr
Mrs Sarah Lewis got in touch with our older persons scheme Wesley House in Brynmawr to discuss the possibility of setting up an intergenerational choir with the school children and tenants, and now over 45 children and 10 – 15 tenants meet every Tuesday to sing.
The choir has already participated in four public concerts and has helped to break down stigmas about different age groups. Best of all, friendships across the generations have blossomed as a result.