A new intergenerational choir will soon mark the centenary of the end of the First World War in what will be their first public performance in Brynmawr.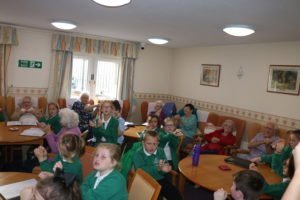 Over 45 children from local primary school St Mary's Church in Wales visit United Welsh's sheltered housing scheme Wesley House every Tuesday afternoon to enjoy choir practice with older tenants.
Miss Sarah Lewis, who teaches Year 5 and leads the choir said: "I went to a conference in Newport where they were talking about intergenerational practice and at the end, a choir got up and sang.
"It broke my heart along with everyone else in the room and I thought, we could do this. I went to Wesley House to talk about the children coming over and the choir was born.
"The benefit it has for both the older tenants and the children is amazing."
At the choir, the youngest singer is aged seven and the oldest United Welsh tenant is aged 96, so Sarah admits it was a challenge at first to get everyone singing together.
She added: "It was a challenge but watching them interact with smiles on their faces and enjoying new friendships has been so rewarding. I like taking the children out of their comfort zone and the choir has been wonderful for everyone involved."
67-year-old Jan Rees attends the choir from her home in nearby Saxon Court, another United Welsh scheme in the area.
She said: "I lived alone because I lost my husband, so I decided to move to sheltered accommodation and it is so lovely to be a part of something.
"We used to sing at Saxon Court but coming here for choir is extra-special and it gets us out. The kids seem to love it and they're so lovely with the residents.
"You don't have to be a good singer for the choir; it's the joining in that counts and we absolutely love it. We try to persuade everyone to join in!"
The choir will hold its first public performance on Thursday November 8th at St Mary's Church in Brynmawr as part of the school's event to mark the centenary of the end of the First World War.
In addition to the choir performance, there will be a short play about John Henry Williams from Nantyglo, who was one of the most decorated Welsh soldiers of World War One, as well as a showcase of poems, letters and artwork created by the children.
Connect Facilitator for United Welsh, Andrea Withers said: "Remembering the fallen heroes of World War One will be a touching and fitting first performance for the intergenerational choir, given the practice sessions have provided a platform for the children to better understand the older generation; what they have experienced and why we value them so much."
The choir at Wesley House is one of several intergenerational activities that United Welsh is hosting with local partners.
There are weekly games, music and dance activities being held with children at Extra Care scheme Llys Nant Y Mynydd in Nantyglo, thanks to a successful grant bid from Age Cymru as part of an initiative to combat loneliness and isolation among older people.
United Welsh was also recently awarded a grant from Comic Relief to deliver a programme of initiatives that will help people to become more socially active in their communities.
Known as the 'Connect' project, Connect has already introduced two 'Knit & Natter' groups led by tenants and a Men's Sheds group, as well as playing a key role in implementing the Brynmawr choir.