We are looking for volunteers to work with us to improve our services for United Welsh tenants.
Do you live in a United Welsh home? Do you want to do something that helps other tenants? Do you care about making things better and enjoy teamwork?
If yes, then say hello to our new Tenant Team!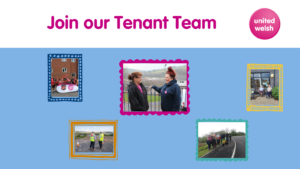 United Welsh's Tenant Team is a new group of volunteers who will play an important role in bringing about positive changes to our housing and related services.
They will make sure our tenants have greater influence on what we do and how we do it, so that we can work together to improve the services that United Welsh delivers to everyone.
We are aiming for the group to consist of between 8 – 12 volunteers who represent the diversity of tenants who live in our homes; bringing different skills and lived experiences to the group to create better outcomes for our communities.
The group will:
Meet at least every three months (online initially)
Work to an annual plan created by the Tenant Team and United Welsh staff
Be supported with equipment and training to help individuals give the Tenant team their best
Volunteers will also be reimbursed for childcare or travel expenses incurred from participating in Tenant Team activities.
Has the Tenant Team sparked your interest? For more information, read our Information Pack.
Already want to jump in? Please complete this short expression of interest form.