Children living in Caerphilly and Merthyr refuges had a wonderful festive surprise when they met Santa at a Christmas party organised by Caerphilly-based housing association United Welsh and Llamau.
Families that are being supported by Llamau Women's Services in Caerphilly and Merthyr were invited to celebrate at Taffs Well Rugby Club on Thursday 7th December.
The High Sheriff of Mid Glamorgan David Davies, who adopted Llamau as his main charity for his year in office, was invited as a special guest and took on the role of Santa himself.
All the children were given gifts from Santa, as well as enjoying a disco, glitter painting and party food.
Mr Davies, who was previously a United Welsh Board member for 14 years, said: "It was a joy to attend the party and see the excitement on the children's faces.
"The services provided by United Welsh and Llamau help to transform the lives of people who are often experiencing the most difficult period of their lives; people who are leaving harmful relationships and facing homelessness but trying to maintain a stable environment for their family.
"Thank you to both organisations for hosting such a worthwhile event."
Nicola Pamplin, Domestic Abuse Services Manager for Llamau said: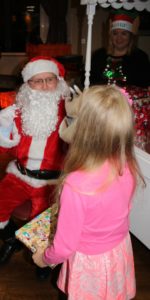 "The generosity of everyone involved in organising the party and donating the gifts for the children was really touching.
"Christmas is a difficult time of year for the families we support, so seeing the smiles on the children's faces was wonderful.
"For some of the children it was the first time they had met Santa so the party certainly helped to make Christmas more special."
The gifts for the children and mums were donated by Celtic Horizons, United Welsh's repairs and maintenance subsidiary.
Claire Phillips, Partnership Management & Compliance Officer for United Welsh said: "It was a pleasure to host the event and we're thrilled that all the families had a great time."
Llamau Women's Services in Caerphilly and Merthyr are at any time providing refuge and outreach support to over 200 families.