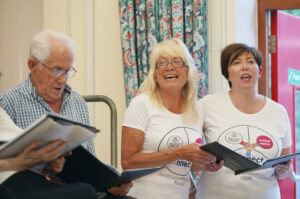 Social isolation has a real impact on a person's health and wellbeing, as we've seen even more acutely during the Covid-19 pandemic.
With funding from Comic Relief, the Connect project delivered by United Welsh launched in 2018 and has been a lifeline for older people living in South Wales this year.
At a time when older people were asked to self-isolate to protect themselves from the coronavirus, the Connect project facilitators and volunteers made over 1,500 wellbeing phone calls to older people living in United Welsh homes, reaching out with friendship to those at risk of feeling lonely.
The Connect project is all about encouraging people to build meaningful relationships, supporting people to get active with their community and 'connect' to reduce isolation.
Before the first national lockdown in March, volunteers were clocking almost 100 volunteering hours each week by leading social activities at sheltered accommodation and Extra Care schemes. This included:
Group baking and cooking dinners
Knitting groups which raised money for schools and local charities
Communal gardening projects
Arts and crafts groups
The Brynmawr Intergenerational Connect Choir with St Mary's CIW Primary School, which continues to grow and flourish
Intergenerational digital help sessions
While Covid-19 forced us all to live and work in a different way, the Connect project also adapted, and the friendships that formed before the coronavirus pandemic have become stronger because of it.
Connect Facilitator Andrea Withers said:

"The schools that we work with have been absolutely great.

"Blaen Y Cwm Primary pupils made planters for the scheme gardens at Wesley House, Saxon Court and Llys Nant Y Mynydd in Blaenau Gwent.

"Roseheyworth School sent pictures to cheer the tenants and St Mary's Church in Wales School have been wonderful too."
St Mary's CIW Primary School teacher and Intergenerational Choir Leader Sarah Lewis has been a long-time supporter of the Connect project. In addition to the choir, she has encouraged lots of intergenerational activities and made befriending calls too.
Andrea continued: "The children from St Mary's have been phoning and texting their older friends; they sent 'Bags of Happiness' containing gifts and the local deli even donated a cake to the school to gift to tenants.
"The whole school also recently made poppies for the tenants to put in their windows and tenants were given a poppy to colour in so they could be used in the school display."
As well as supporting older people, the Connect project has a positive impact on the volunteers it recruits and supports to lead activities too.
In recent months, they have refreshed the communal gardens in schemes where older people live so they could enjoy sitting outside even more, or simply taking in the view.
Between gardening, shopping, collecting medication and more, the volunteers have said that offering support has had a positive impact on their wellbeing too.
The Connect project is led by United Welsh's Living Well team.
Living Well Team Leader Jemma Browning said:
"The vision for Connect was to work with people to embrace their strengths and attributes in ways that helped them to form connections with people and the local communities where they live.
"As well as creating health and wellbeing concerns, social isolation can lead to other safety issues. Taking a proactive approach with projects like Connect helps to prevent those issues while also building stronger, healthier communities.
"We're proud the project is having a positive impact on older people and the wider community too."