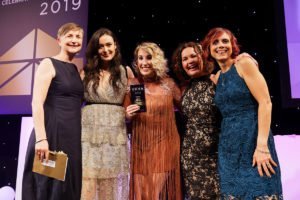 A campaign developed by United Welsh to help people prepare for the transition to Universal Credit has been named 'Campaign of the year' at the prestigious UK Housing Awards.
'Be like Bob' was an integrated marketing campaign based on the concept that tenants should be like Bob because he is managing his Universal Credit payments after organising his Banking, Online access and Budget.
It encouraged tenants to take practical steps to prepare for the transition to Universal Credit as 'full service' was launched in the local authority areas covered by the Association.
The UK Housing Awards (UKHA), run by the Chartered Institute of Housing (CIH) and Inside Housing, is the largest and longest-running awards in the sector and is now in its third decade, celebrating the best in the sector across the UK.
The Campaign of the Year award is presented to the organisation which has demonstrated excellence in communications, be it an integrated campaign to tackle a specific issue or powerful internal communication.
Since launching in July 2017, Be like Bob has been adopted by ten other housing associations, the Wales Cooperative Centre and local authority partners.
The campaign involved direct marketing through personalised tenant letters and leaflets, social media plans, an animation, bus and radio advertising and promotion through United Welsh's publications.
Due to pooling resources, the campaign is estimated to have saved the Welsh housing sector more than £50,000.
The UKHA judges commented that the Bob campaign had been outstanding in the category as it was "brilliantly crafted and well-executed", and they were particularly impressed that United Welsh had shared the campaign with partners across Wales.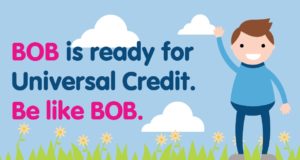 Lynda Sagona, Group Chief Executive of United Welsh, said: "As a Registered Social Landlord, we were acutely aware of the impact of Welfare Reform on our tenants and concerned about the impact of Universal Credit in particular.
"Supporting tenants to maintain their tenancies is a key priority for United Welsh so the Be like Bob campaign was conceived with this in mind; to help our tenants with banking, online and budgeting to help them to effectively secure and manage their Universal Credit claims.
"The campaign has made a significant impact on the Welsh housing sector and we are delighted to have won the UK Housing Award for Campaign of the Year."
Terrie Alafat, Chief Executive of the CIH, said: "These awards are an amazing showcase of the ingenuity, innovation and passion of housing professionals and organisations right across the UK. They are a tribute to the outstanding work done every day to provide safe, good-quality, affordable homes and create the foundation for sustainable communities and happy, healthy lives."
The awards were held at the Grosvenor House Hotel in central London on Wednesday 1st May, where judges handed awards to landlords for their outstanding approach to development, tenant involvement and regeneration, among others.